Cream of Asparagus Soup
Popular around the globe, asparagus has a delicate flavor. It is delicious steamed, roasted or stir fried and can be best enjoyed during its short growing season (April through June). While it is available in markets during other times, these off-season spears are imported, and may not have the full flavor or freshness of local produce.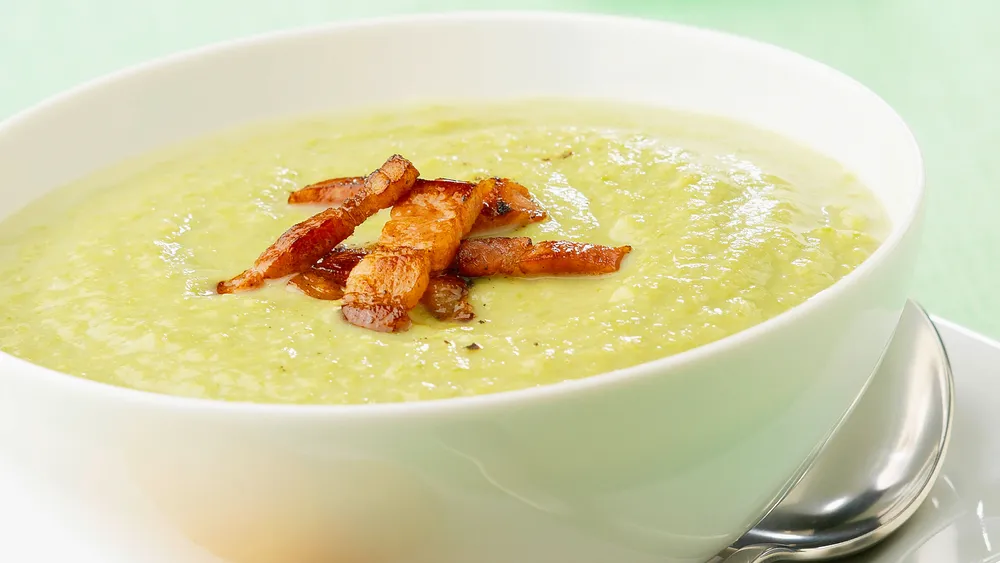 Ingredients
3 slices bacon
¼ C (57 g) unsalted butter
3 stalks celery, chopped
1 med onion, diced
3 Tbsp (23 g) flour
6 C (1420 ml) low-sodium chicken broth
1 med potato, peeled and diced
1 lb (454 g) fresh asparagus, tips set aside and stalks chopped
8 oz (227 g) mushrooms, sliced
¾ C (177 ml) half-and-half
Salt and pepper to taste
Directions
Cook bacon in a skillet over medium high, turning occasionally, about 10 minutes. Transfer to paper towels to drain; cool; crumble and set aside. Reserve bacon drippings. In a saucepan, melt 1 T (14 g) reserved drippings and butter over medium; add celery and onion and cook, stirring frequently, until onion is translucent, about 4 minutes. Sprinkle with flour and cook, whisking constantly, 1 minute. Pour in chicken broth and bring to a boil, whisking until incorporated. Add potato and asparagus stalks; season with salt and pepper. Reduce heat; simmer 20 minutes, then remove from heat; cool 5 minutes. Working in batches, purée mixture in a blender until smooth; transfer to a clean pot.
Place skillet with remaining drippings over medium high and add mushrooms and asparagus tips; cook, stirring occasionally, until mushrooms give up their liquid, 5–8 minutes; season with salt and pepper. Add mushrooms, asparagus tips and half-and-half to purée and simmer over medium low for 10 minutes. Ladle into bowls and garnish with crumbled bacon.
Prep time: 12 minutes.
Cook time: 53 minutes.
Makes 4 servings.