Lobster Rolls With Red Curry Dipping Sauce
Crunchy, sweet and spicy—this appetizer is an exciting combination of textures and flavors all "rolled" into one. You can speed things up by starting with precooked lobster. The red curry sauce is spectacular, but these rolls can also be served with prepared condiments like Thai peanut sauce, sweet and sour sauce, chutney, or Sriracha mayonnaise.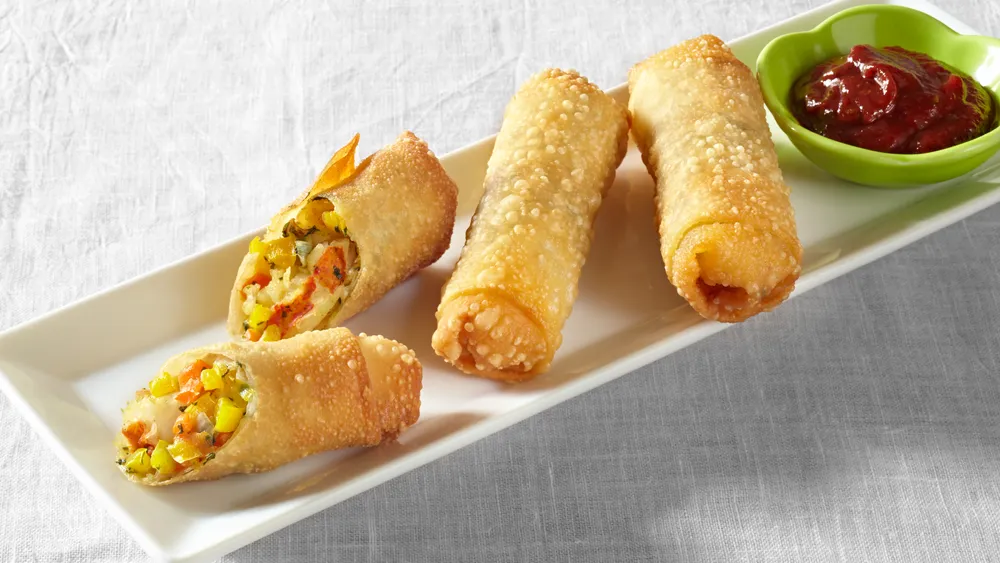 Ingredients
Rolls
2 med lobster tails
¼ C (59 ml) olive oil
1 yellow bell pepper, finely chopped
1 leek, white part only, finely chopped
1 lg carrot, peeled and finely chopped
2 garlic cloves, minced
Salt and freshly ground pepper
2 Tbsp (5 g) cilantro, chopped
12 egg roll wrappers
Vegetable oil for frying
Sauce
2 Tbsp (40 g) Thai red curry paste
2 tsp (10 ml) sesame oil
1 C (237 ml) honey
1 Tbsp (2.5 g) Italian parsley, minced
¼ C (57 g) unsalted butter
2 tsp (10 ml) rice vinegar
Directions
Rolls
In boiling water, cook lobster 8–10 minutes until meat is opaque. Remove; drain; cool. Shell; coarsely chop meat. In a medium skillet sauté pepper in olive oil 30 seconds; add leeks and carrots; and cook until soft, about 2 minutes. Stir in garlic; season with salt and pepper. Add lobster; cook for 30 seconds longer. Remove from heat; stir in cilantro.
To assemble egg rolls, lay out wrappers and put a heaping tablespoon of filling in middle of each. Fold in sides, then fold bottom up and over the filling and roll up until wrapper covers filling. Moisten wrapper edge with water; press to seal.
Heat 3 inches of oil in a large deep saucepan to 350°F (177°C). Working in batches, fry rolls until golden brown, turning to cook all sides. Transfer to paper towels to drain. Meanwhile, make dipping sauce, by cooking red curry paste over medium heat for 1 minute; reduce heat to medium low, add oil, honey and parsley, whisking to combine. Remove from heat, stir in butter, then return to heat; cook until thick and bubbly. Remove from heat; cool and whisk in rice vinegar.
To serve, cut rolls diagonally through the center and serve hot with dipping sauce.
Prep time: 10 minutes.
Cook time: 10 minutes.
Makes 12 servings.