Steamed Mussels
Pero Sare's family has farmed mussels in the Adriatic for generations. These garlicky, steamed mussels in a succulent saffron-infused sauce reflect the sunny flavors of Italy. This traditional recipe mingles lump crabmeat with these delectable jewels of the sea. Serve this with fresh, crusty bread to sop up all of the luscious, soupy sauce.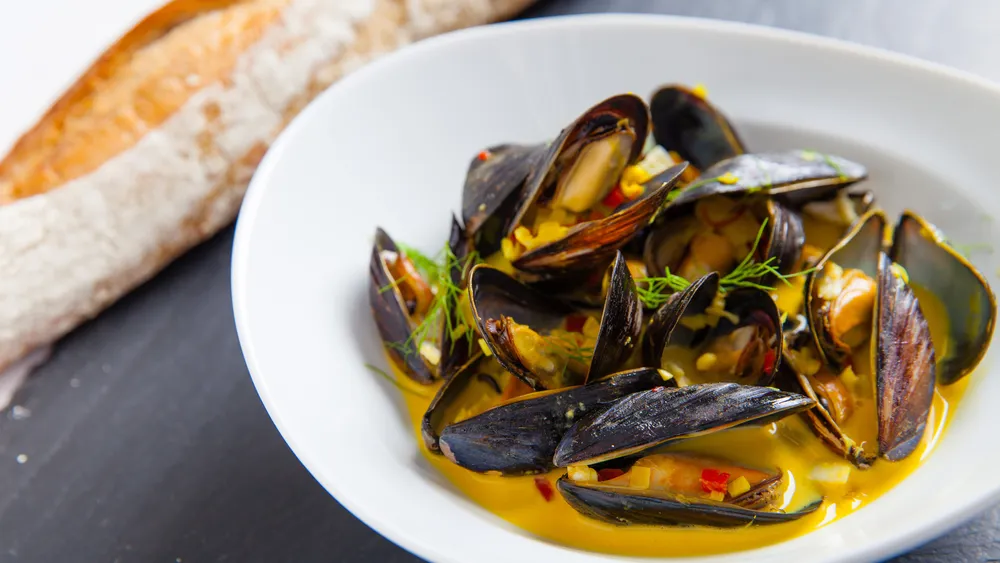 Ingredients
1½ Tbsp (22 g) unsalted butter
1 Tbsp (15 g) shallot, minced
1 tsp (3 g) garlic, minced
1 C (180 g) fennel bulb, finely chopped
¼ C (50 g) piquillo or roasted red peppers, drained and minced
Salt to taste
¼ C (59 g) dry vermouth, like Cinzano
1½ C (355 g) heavy cream
2 pinches saffron threads
1 C (200 g) lump crabmeat, picked over for cartilage
4 dozen live mussels, scrubbed and debearded
Fennel fronds, chopped
Directions
Melt butter in a large pot with a tight-fitting lid over medium heat. Add shallot, garlic, fennel bulb, peppers and salt, stirring often, until fennel has softened, about 5 minutes. Stir in vermouth and cook until almost entirely evaporated. Add heavy cream and saffron; bring to a boil; reduce heat to low. Add crab and mussels; stir to combine. Cover and simmer 3–4 minutes, or until mussels open. Transfer mussels to bowls; spoon liquid and vegetables over them, and garnish with chopped fennel fronds.
Prep time: 8 minutes.
Cook time: 5 minutes.
Makes 6–8 servings.