Chocolate Hazelnut Panna Cotta
Our take on this Italian classic is light and creamy. Historically, panna cotta ("cooked cream") was thickened with egg whites and baked, but this no-bake version uses gelatin. When whisking together the cream, chocolate and hazelnut mixture, we drizzle in a whisper of Amaretto to add a delightfully nutty flavor.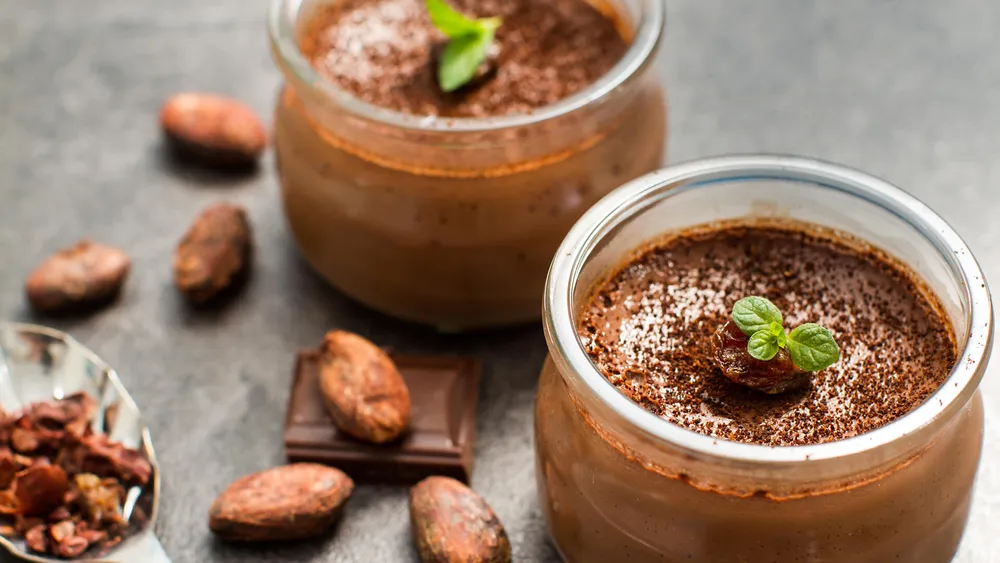 Ingredients
2 sheets leaf gelatin
2 oz (57 g) bittersweet chocolate, finely chopped
¾ C (135 g) chocolate hazelnut spread, like Nutella
2 C (473 ml) heavy cream
1 tsp (5 g) Amaretto liqueur
1 C (118 g) sweetened whipped cream
¼ C (25 g) chocolate shavings
Directions
Submerge gelatin leaves in ice water and let soak until softened, about 10 minutes. Place chocolate and chocolate hazelnut spread in a large bowl, stir to combine; set aside. Place cream in a medium saucepan and let just barely come to a boil; remove from heat. Pull softened gelatin sheets from water; squeeze out excess liquid. Add gelatin to cream, swirling to melt and combine. Immediately pour cream mixture over chocolate mixture. Allow cream and chocolate mixture to stand a few minutes, then whisk until smooth and blend in Amaretto. Transfer to 6 individual serving glasses. Refrigerate at least 2 hours before serving; cover with plastic wrap if refrigerating overnight. Garnish with whipped cream and chocolate shavings.
Prep time: 15 minutes.
Cook time: 2 hours.
Makes 6 servings.