Risi e Bisi
This risotto really shines when you use sweet fresh peas that have not quite filled their pods—try your local farmers' market. Alternately, you can substitute frozen petite peas. Good quality extra virgin olive oil is also important because its flavor becomes part of the dish. Pair with a glass of Soave or Prosecco to give your dinner a Venetian touch.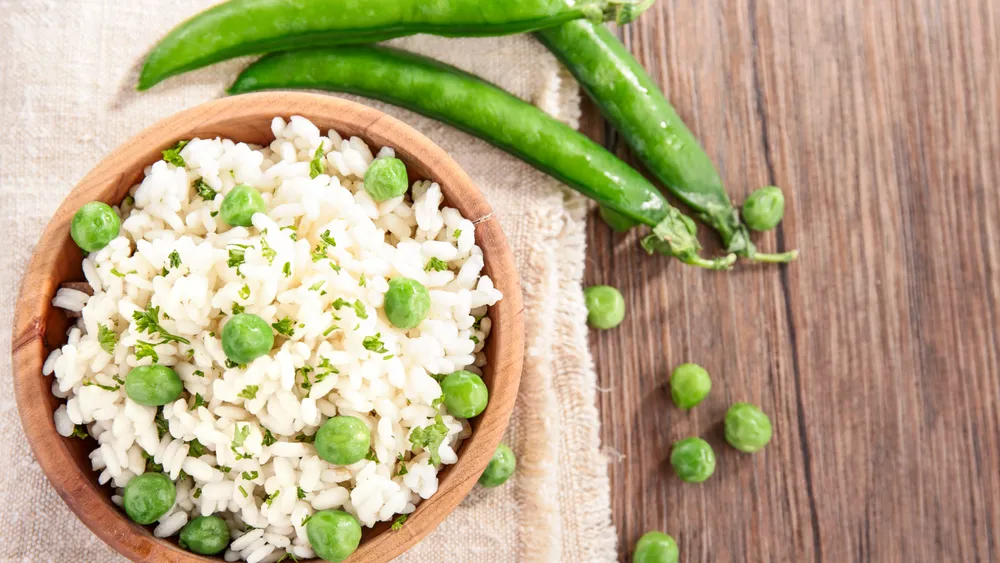 Ingredients
2 med white onions, cut in half
1 Tbsp (15 g) extra virgin olive oil
8 Tbsp (120 g) unsalted butter, room temperature, divided
1 lb (500 g) fresh peas in pods, shelled
1 C (15 ml) water
1½ C (315 g) Arborio rice
5–6 C (140–170 ml) low sodium vegetable broth, hot, divided
½ C (90 g) grated Parmesan cheese
¼ C (10 g) chopped fresh parsley
Salt and pepper to taste
Directions
To make onion butter, chop 1½ onions; reserve remaining onion half. Place 1 T (15 g) oil and 1 T (15 g) butter in a large skillet over medium; add chopped onions and cook, stirring occasionally, until light gold and very soft, about 30 minutes. Remove from heat; cool to room temperature. Place onions and butter in a food processor; blend until smooth. If making ahead, chill until ready to use.
In a medium pan place peas, remaining half onion and 1 C (15 ml) water. Bring to a boil on high; reduce and simmer until peas are just tender, 5–7 minutes. Remove from heat; transfer to a bowl with slotted spoon, reserving cooking liquid.
To a large skillet, add ¼ cup (200 g) of onion-butter and rice; cook 2 minutes on medium, stirring to coat. Add reserved pea-cooking liquid and cook, stirring constantly, until nearly all liquid has been absorbed. Add broth, ¾ cup (175 ml) at a time, stirring between additions until nearly absorbed, until rice is tender but firm to the bite, about 15 minutes. Stir in peas, cheese, parsley and ½ cup (120 g) of broth. Remove from heat; season with salt and pepper.
Serve as a side with Fegato alla Veneziana, or top with cooked shrimp for a main course.
Prep time: 15 minutes.
Cook time: 58 minutes.
Makes 4 servings.