Seared Mahi-Mahi
The word mahi mahi comes from the Hawaiian name for this fish, "strong strong." With firm white flesh and a mild flavor, it is also a sustainable seafood choice. This recipe pairs the delicate flavor of passion fruit with butter, cream and honey, a perfect complement to the fish.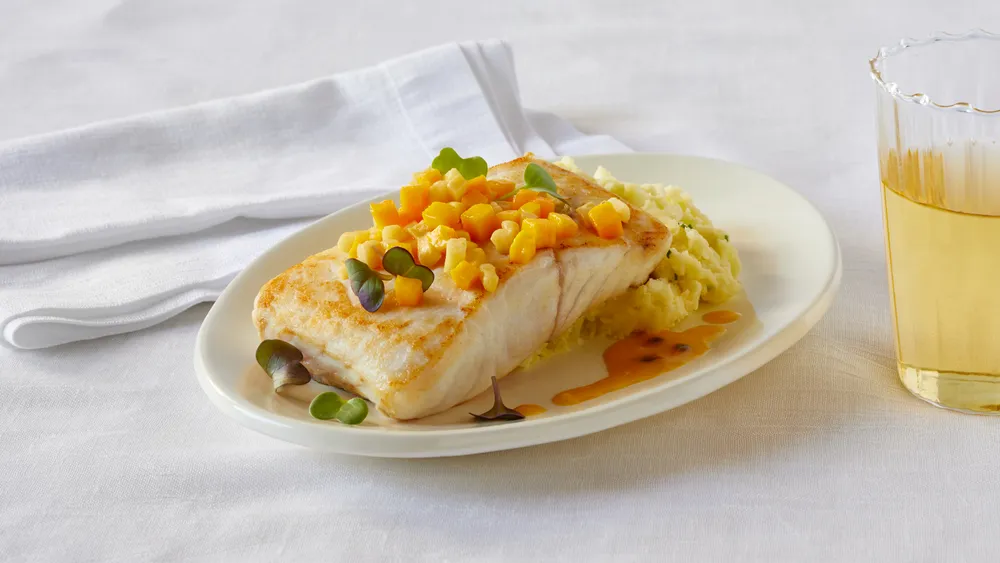 Ingredients
Passion Fruit Sauce
½ C (120 ml) fish stock
3 Tbsp (60 g) passion fruit purée
2 Tbsp (29 ml) heavy cream
1 tsp (6 g) honey
1½ tsp (8 g) unsalted butter, chilled, cut into small pieces
2 tsp (6 g) passion fruit seeds
Mahi-Mahi
1½ lb (680 g) mahi-mahi filets
2 Tbsp (28 ml) freshly squeezed lemon juice
1 Tbsp (15 ml) olive oil
Salt and white pepper to taste
Eggplant and Mango
1¼ C (100 g) eggplant, ⅛-in (3-mm) diced
1 Tbsp (15 g) unsalted butter
Sea salt to taste
⅔ C (100 g) mango, ⅛-in (3-mm) diced
Potatoes
1 lb (454 g) fingerling potatoes, peeled
2 Tbsp (29 g) butter
1 tsp (1 g) chives, finely chopped
Sea salt and black pepper to taste
Plating
1¼ Tbsp (4 g) cress or micro greens
Directions
Passion Fruit Sauce
Boil stock over high heat until reduced by a third; reduce to medium-high heat and stir in passion fruit purée; continue cooking, stirring frequently, until reduced by half. Stir in cream; continue cooking until reduced by half again. Remove from heat, stir in butter and passion fruit seeds. Set aside.
Mahi-Mahi
Toss mahi-mahi with lemon juice, olive oil, salt and pepper; let stand 15 minutes. Heat an empty skillet over medium-high heat; place fish skin side down in skillet; reduce to medium. After 2 minutes, shake pan gently to loosen; cook 2–3 more minutes until well browned and cooked about three quarters of the way through. (While fish cooks, drain and crush potatoes a fork; add butter; mix; add chives, salt and pepper. Turn fish; cook about 3 minutes more or until just barely pink in the center.
Eggplant and Mango
Sweat eggplant in butter with salt 2–3 minutes; add mango, sweat 1 minute; keep warm.
Potatoes
Boil potatoes until tender, about 10 minutes. Drain. Add butter and chives. Season with salt and pepper.
Plating
Divide potatoes onto 4 plates. Place fish skin-side up on potatoes. Divide eggplant and mango on top of fish. Drizzle sauce on the plate around fish. Garnish with cress or micro greens; serve immediately.
Prep time: 15 minutes.
Cook time: 30 minutes.
Makes 4 servings.