Smoked Tomato Vellutata
This twist on cream of tomato soup is a sophisticated version that elevates an old favorite to an elegant indulgence. Indeed, it is velvety smooth, as its namesake "vellutata" indicates. Start with high-quality tomatoes (both canned and fresh) in their own juice, add sautéed onions and blend in cream for richness. It tastes delicious served with basil-goat cheese crostini.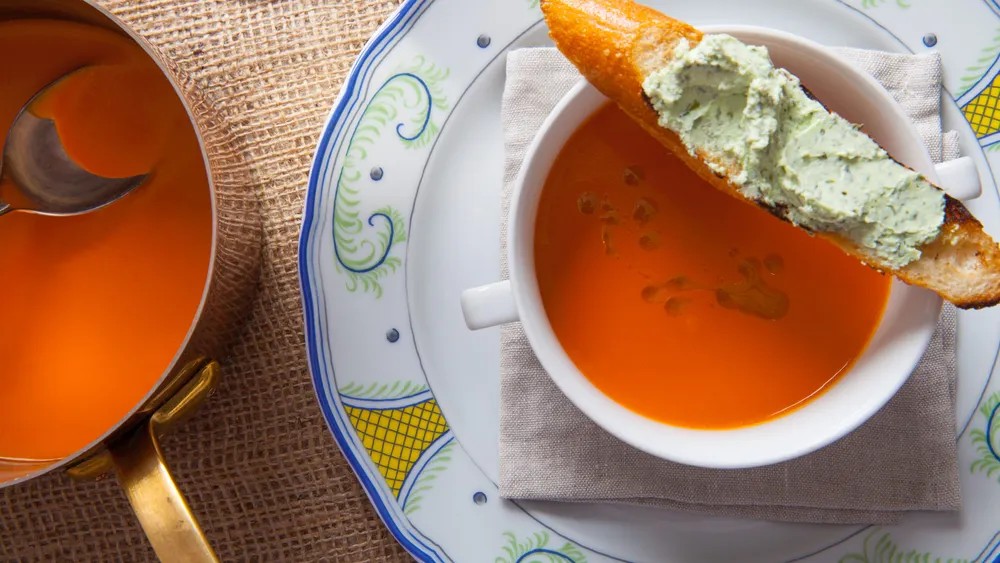 Ingredients
Bouquet Garni
2 sprigs basil
5 sprigs thyme
3 sprigs parsley
10 peppercorns, whole
Vellutata
1 C (150 g) onion, chopped
Kosher salt to taste
2 Tbsp (30 ml) extra virgin olive oil
2 C (322 g) plum tomatoes, cored and chopped
1 Tbsp (17 g) tomato paste
5 cloves roasted garlic
½ C (118 ml) dry white wine
14 oz (397 g) can whole plum tomatoes, San Marzano brand preferred
Pinch of red chili flakes
1 Bouquet garni
1 qt (1 l) cold water
2 Tbsp (25 g) light brown sugar
⅔ C (22 ml) heavy cream
2 tsp (10 ml) liquid smoke
Basil Goat Cheese Crostini
12 baguette slices
2 Tbsp (30 ml) extra virgin olive oil
½ C (12 g) basil leaves, loosely packed
4 oz (113 g) fresh chèvre, room temperature
Directions
Bouquet Garni
Tie herbs together, place in cheesecloth and add peppercorns; tie tightly with twine and set aside.
Vellutata
Cook onion with salt in oil in a large pot over medium low heat, stirring often, until limp and translucent, about 5 minutes. Add chopped tomatoes, increase to medium heat stirring often, until tomatoes have given up most of their liquid and bottom of pot is nearly dry. Stir in tomato paste and garlic; cook for 1 minute. Stir in white wine and cook until almost dry. Add canned tomatoes (and all their liquid), chili flakes and bouquet garni. Cover with cold water; bring to a boil over high heat; then reduce heat and simmer 10 minutes, or until liquid reduced by ⅓. Remove from heat; discard bouquet garni. Stir in brown sugar, cream and liquid smoke. In a blender, process soup in batches until smooth; season to taste with salt. Plate immediately or chill and reheat; serve with crostini.
Basil Goat Cheese Crostini
Preheat oven to 350°F (177°C). Brush both sides of baguette slices with oil and bake until golden brown, about 5 minutes. Blanch basil 15 seconds in boiling salted water; drain; pat dry, and add to chèvre in food processor; blend until smooth and spread on baguette.
Prep time: 20 minutes.
Cook time: 16 minutes.
Makes 6 servings.